Be sure to get your Passport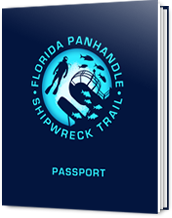 This Passport is your gateway to twenty spectacular shipwrecks in the Gulf of Mexico. You may start your journey along the trail at any of the destinations; upon completion of each dive be sure to have your Passport validated with a signature and sticker. Note that the Passport has a QR Code that allows you to access this webpage by a smartphone using a QR code reader. Trail passports are available from participating dive shops and charter boats.
Media Kit
Download media information, images, partner listings and videos for the Florida Panhandle Shipwreck Trail.